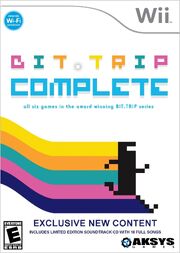 BIT.TRIP COMPLETE was the first physical release of the BIT.TRIP series. Developed by Gaijin Games (now Choice Provisions), it released on September 13, 2011 in North America, and March 16th, 2012 in Europe. The North American version was published by Aksys Games, and the PAL version was published by Rising Star Games.
Games Included
[
]
Features
[
]
The six original BIT.TRIP games on one physical disc.
120 new Challenge Levels, 20 per game.
New audio gallery with fan remixes, original songs, and demo versions of existing BIT.TRIP themes.
An image gallery with exclusive production stills, concept art, and promotional images.
A video gallery with more than 25 movies telling the story of CommanderVideo.
6 Letters to BIT.TRIP fans, written by the series' director.
Original soundtrack CD packaged with BIT.TRIP COMPLETE featuring music from all six games in the series.
New difficulty modes in all games.
Online leaderboards.
Unlockables
[
]
BIT.TRIP COMPLETE has a collection of unlockables that can be obtained by completing levels, beating
challenges, and getting Perfects.